MEAT RAVIOLI – A FAMILY RECIPE: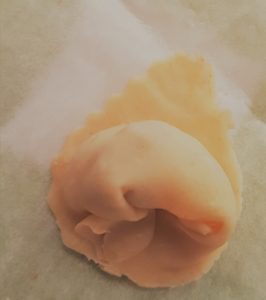 Ingredients for pasta:
1 egg per 1 oz of flour (with 42.38 oz of pasta and 35.28 oz of meat stuffing, about 52.91 oz of small ravioli/cappelletti, approx 10/12 serve)
a pinch of salt
CHUCKROAST
PRESSURE COOKER: COOKING CA. 2 HOURS
ca. 42.38 oz of chuckroast
1 large white onion
100 g finely chopped cup
1 glass of good red wine
1 bouillon cube (delicate):   1 and a half glass of bouillon
6 cloves
1 nutmeg
2 laurel oak (6 grains of juniper to taste)
salt, pepper, olive oil, butter, little sifted flour
Roast the onion, cut the ham and put all the ingredients in oil and butter adding 1/2 cup of water.
Make small holes on all sides of the meat and stuff the cloves.
Remove most of the sauté from the pot, keeping it aside.
Roast the meat from all sides, sprinkle with grated nutmeg, salt and pepper.
Add the wine and let evaporate . Add laurel and juniper; add sauté and bouillon.
Close the pressure cooker and as soon as you hear the hiss lower the flame to a minimum.
Cook for 2 hours approx. at low heat.
When cooked, remove the meat from the pot, placing it on a baking dish.
With a fork, mix very well approx. 1.80 oz of butter with 1 tablespoon of cornstarch and stir at high heat in the cooking broth to make it thicker.
For the roasted meat oven: heat the oven, slice the meat by placing it in the pan and pour over the abundant sauce and heat everything well in the oven.
INSTEAD IF YOU WANT TO COMPLETE YOUR MEAT filling for the ravioli/cappelletti, proceed as follows:
1. At the end of cooking, separate the sauce of the broth from the meat, chop the cooked meat, with about 3.53 oz of sausage, 3.53 oz of ham, 3.53 oz of mortadella.
2. Add the minced meat in a bowl, with 2 whole eggs, a few tablespoons of Parmesan cheese, 2/3 tablespoons of homemade béchamel sauce, and nutmeg to taste.
With the pasta machine, process your fresh egg pasta, until the last step for the dough, making folds during each step.
The dough must be envely thin and transparent , without breaking.
For each row of dough, cut with the washer  regular squares, which will be filled with a little meat stuffing, then form triangles with the tips of the dough, press well to make the edges adhere well, and form the cappelletto, working around your left index and always closing the ends very well.