GNUDI TOSCANI OF MY SCHOOL FRIEND LORENZA PORINELLI: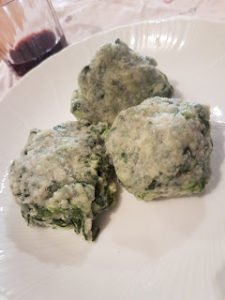 INGREDIENTS:
17.64 oz of cooked spinach well drained and chopped
14.11 oz of cottage cheese or the one you prefer
2 eggs
4 full tablespoons of parmesan cheese
salt and nutmeg to taste
flour to pleasure to obtain a dough less mushy
1) Mix everything well, after washing, cooking and squeezing well and cutting the spinaches.
2) Feel free to use your hands and make small balls and flour.
3) Add flour if the dough should be still soft and squishy (and sieve ricotta cheese before mixing with the rest)
4) Dip them one at a time in boiling salted water.
5) When they are ready they will re-emerge.
6) Season with butter, garlic and sage.